Would you like to reduce your energy Bills? We have 9 ways to improve your EPC rating which could reduce the amount you pay.
What is an EPC rating?
In short, an Energy performance certificate (EPC) is a rating scheme to summarise the energy efficiency of buildings. It is valid for 10 years and gives you a general idea of how energy-efficient your property is. The higher the rating the more energy efficient the home is and the lower the fuel bills will be.
It is key to buying, selling or renting a property as it gives you an idea of:
Energy bills
Carbon emissions
What you can do to improve its energy efficiency
Even if you're not moving, it's worth having a look at your home's EPC to find out what you can do to reduce your energy bills and carbon emissions. Once you've made improvements to your home, make sure to have a new EPC issued. You can access any home's EPC through the government's website.
An EPC shows the 'SAP rating'. A 'SAP' rating stands for Standard Assessment Procedure and is the governments recommended system for producing a home energy rating. The SAP charts have been divided into 7 bands ranging from A-G. Each range has a set amount of 'SAP' points. Each chart has a current and a potential energy rating out of a maximum of 100 points.

The first page of your EPC starts with an estimate of the current and potential energy bills of the property. This is useful for knowing how much a new property will cost to run in energy bills, as well as how much lower the running costs could be if the energy efficiency was improved.
These costs are just for your heating, hot water and lighting. The EPC does not include any additional energy costs from your home appliances(such as the cost of running your fridge, oven, TV) so in reality your energy bills will be a bit higher. However, the costs shown can help you compare properties and see which building could be cheaper to run.
In this example, the potential savings add up to nearly £4,000 over three years in this three-bedroom semi-detached house.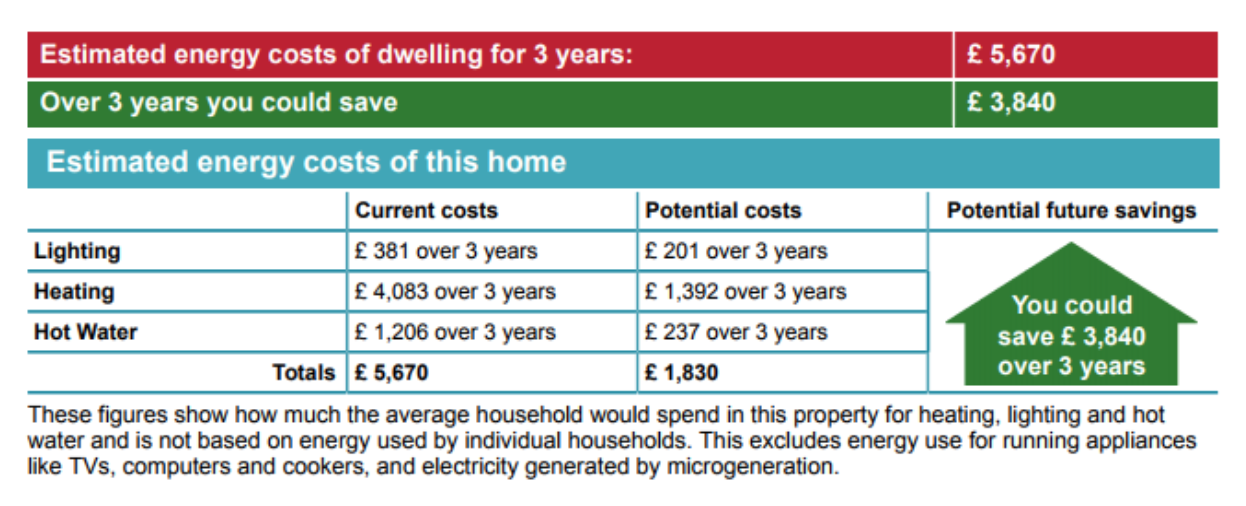 How to improve your EPC rating
Improving your EPC means improving your home's energy efficiency. It also means you could reduce your energy bills, make your home warmer and more comfortable and increase its value and reduce your carbon footprint. Here are some of the ways to improve your EPC:
Double glazing - Upgrading your windows and doors won't just improve your home's energy performance, it can reduce noise too.


Loft insulation - It's easy to install, inexpensive and can make a huge difference to your bills. Install loft insulation that's at least 270mm thick.


Lighting and draught proofing – Adding draught proofing and changing your lights over to energy efficient options can add around a point each onto the final rating. Not much, but this doesn't cost much to do!


Wall insulation - Whether your home has cavity or solid walls, insulating them can improve your EPC rating and you might qualify for help with the costs.


Documentation – If you already have insulation installed, or if you think there may be insulation from a previous occupier, but the space is not accessible, then you should try to obtain the documentation and show this to the EPC assessor. Sometimes this can make as much difference as actually installing an improvement. This also goes for window installation and other improvements.


Replace your boiler - You can cut your energy bills with a new, energy-efficient boiler.


Insulate your hot water cylinder – Not everyone has a hot water cylinder, but if you do, it is worth adding insulation to the tank. This is cheap and easy to do, and will bump your rating by a few points as well.


An efficient secondary heating source - Installing a wood-burning stove instead of an open fireplace can give you greater fuel efficiency and reduced costs in the long run.


Solar panels - these produce cheaper, greener energy. See our advice on solar panels for more information.
How do I get an EPC done?
If you require any assistance with your EPC, whether that is getting a new one or locating an old one, David Davies sales & lettings Agent can help. For more information, contact our team;
By phone on St Helens – 01744 885753 / Southport 01704 338888
By email at sales@daviddaviesestateagent.co.uk